As women, we know the challenges of navigating the workplace. From the gender pay gap to the lack of representation in top leadership positions, women face many obstacles that can make it difficult to succeed.
For INTJ women, these challenges can be even more daunting. With their analytical and strategic thinking skills, INTJ women bring a unique perspective to the workplace.
However, they also face unique challenges that can make thriving difficult.
Agentic Leadership Coach Lianna Quetel provides insights into what it's like being an INTJ woman in the workplace and how to achieve personal and professional success.
What are the five traits of an INTJ woman in the workplace?
Lianna: This list represents a few traits I've observed in INTJ women in the workplace.
Frank – Candid
Confident – Sure of themselves
Responsible – Accountable
Efficient – Methodical and systematic
Logical – Objective and insightful
What key points are essential to know about an INTJ woman?
Lianna: As an INTJ woman, doing the right thing is essential and fulfills my purpose of serving others. I navigate well in grey space and maintain a knack for cutting through the noise and eliminating the non-essentials under challenging situations/environments with high stakes and significant impact. Since my cognitive default mode of information processing is logic driven, I also do well as a coach or mentor, where my observational feedback proves a reliable source of no-nonsense value-add to others.
Why might an INTJ woman be viewed differently in the workplace?
Lianna: As an INTJ woman, I can achieve organizational objectives/personal goals without necessarily conforming to the social norms of the workplace. This approach tends to rub people the wrong way. It is considered questionable as an effective means to succeed in a corporate setting.
Another reason I may be viewed differently is my ability to work autonomously. As an INTJ woman, I have a strong work ethic. Because I am intrinsically motivated, I maintain full ownership of my role and accountability to function with minimal to no oversight. While this behavior is generally considered an asset to the company, it incites curiosity about who I am and what I'm about.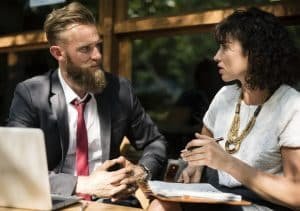 What is the best work environment for an INTJ woman to thrive?
Lianna: As an INTJ woman, a dynamic and complex work environment that requires fast problem-solving and quick decision-making is where I thrive. This setting challenges me to rely on my INTJ functional stack to test theories in real time and produce sustainable results. Moreover, conditions that require me to operate under pressure and with little to no room for error offer a landscape where I can refine my skills to precision and expeditiously.
The iterative process of strategy execution in situations like the above is rewarding. It produces a reinforcing feedback loop that carries me through the obstacles and roadblocks to staying the course. A career in Risk Management or other professions that deal with nuance and ambiguity offers the ideal environment for an INTJ woman to thrive.
What are the ways that managers/supervisors can get the best out of an INTJ woman?
Lianna: I have dedicated much of my career to being a manager or a leadership role. As an INTJ woman, I appreciate the support that demonstrates Servant Leadership, as this philosophy places the need of others above one's own. I cannot underscore the importance of prioritizing emotional intelligence as an effective way to get the best return from human capital.
By having a management team that recognizes an INTJ for who she is and provides time to share her authentic self, a door opens for a solid and mutually beneficial working relationship that will continue to grow and develop together.
How did you get comfortable in corporate America?
Lianna: I have learned that acceptance is integral to a much broader approach to navigating organizational dynamics effectively. Since I have an inherent desire to help as much as possible, I often need to remind myself to accept the many things out of my control while giving to areas within them. Acceptance can be challenging. In terms of comfort, I should hope not. Corporate America is changing (for the better) and shaking the status quo. I welcome the shift and do my part to represent the change I wish to see.
What life advice would you give to your teenage self?
Lianna: Learn to teach yourself what you do not know and commit to doing it often to develop a growth mindset to navigate through life. Integrity is a building block of character and worth the investment, refrain from betting on the alternative path, or you will find yourself wanting. And lastly, self-agency dictates reality, so learn to nurture it with care because your life journey will be anything but ordinary.
What advice would you give introverts to remain authentic to themselves with pressures from colleagues and coworkers?
Lianna: Learn how to effectively articulate the meaning of being an introvert (accounting for nuance) and how this reflects your behavior in the workplace. Be clear in distinguishing wants vs. needs as an introvert and establish a committed working agreement with others as needed. Utilize company support channels like Diversity, Equity & Inclusion (DE&I), and training courses on unconscious bias.
Use these tools as reinforcements to call back a level of understanding if/when the pressure starts leaning in the wrong direction. Last but not least, take ownership in driving change to build a more inclusive environment, which means embracing introverted personalities and their contributions as valuable employees in the workplace.
Being an INTJ woman in the workplace can be challenging, but it can also be rewarding. By focusing on your strengths, building strong relationships, advocating for yourself, and demonstrating your leadership potential, you can overcome your unique challenges and succeed on your terms.
Lianna Quetel
Agentic Leadership Coach
Washington, D.C.
AgenticLeader@gmail.com
Featured Photo by Lianna Quetel